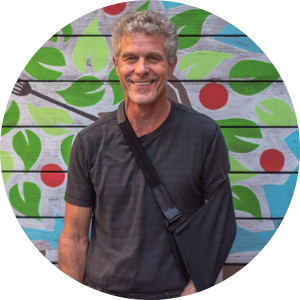 Good work, done well for the right reasons and with an end in mind, has always been a sign, in most human traditions, of an inner and outer maturity. Its achievement is celebrated as an individual triumph and a gift to our societies.
David Whyte, Crossing the Unknown Sea
David shares his thoughts on meaningful work, spotting talent and the complex topic of gentrification. He riffs on developing real estate by reinvigorating beautiful old buildings and how a community developed an independent spirit.
David Spence is a commercial and residential real estate re-developer here.  His specialty is the meticulous re-imagining and re-constructing of beautiful old spaces.  If you are familiar with the area, Lucia and Dude, Sweet Chocolate are located in the Bishop Arts Building, his very first project.  This is also where the Good Space office is and where we held our interview.
David's background and credentials include Peace Corp work in Guatemala, an MBA, a law degree and a love (and talent) for fixing up old things.  This type of intellectual horsepower, paired with a commitment to community, is not uncommon here in Oak Cliff.
In this interview we talk about:
The integral nature of structure, culture and individual capacities

The complexity of balancing progress and preservation

Meaningful work

A productivity tactic David uses to get stuff done

Stakeholder orientation
Be sure to check out detailed show notes with links, reflections and resources at the Rise Leaders Radio website episode page.  
Thanks for tuning in!  I hope to hear from you-
LeeAnn