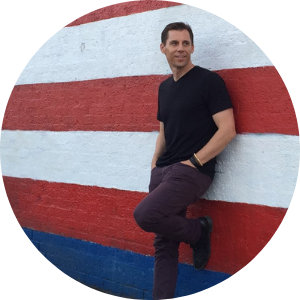 Passion is the result of a good life design, not the cause.
Bill Burnett & Dave Evans, Designing Your Life: How to Build a Well-Lived, Joyful Life
I knew that Christian's story would be interesting because while he was building his residential development business he also finished a Masters degree in Transpersonal Psychology at Naropa University in Boulder, CO.   This all came on the heels of an existential exit as a professional golfer as a result of a career-ending back injury.  Let all that sink in!  
He now owns and operates Christian Chernock Properties, a design + build firm in Dallas that focuses on the revitalization of historic and conservation districts.  His intellect and focus on sustainable and future-focused design pushes the edges - and some local residents' buttons, too!  
Christian's background as a high performing athlete and his ongoing commitment to 'leave it all on the field' have been instrumental to his success.
Here's what to listen for in the interview.  Detailed notes and links can be found on the Rise Leaders Radio website page.  
How Christian integrated the concepts of Lifestyle Design, self-awareness and professional support to move him through this critical life transition.
Lifelong passions as clues for living a fulfilling life.
The importance of finding and giving oneself over to the right teachers and to committing to deliberate practice in service of your greatest desires.
Reduce overwhelm and build confidence by breaking big goals into manageable milestones and do-able steps.
The challenge of architecting an environment that elicits pride 100 years from now while also addressing historic preservation, increasing density, rising rents, and building codes. Generating an evolutionary future that respects the past and protects the sense of place is a tall order!
 We covered a lot in this interview.  I hope you enjoy it!
Elevate Your Part of the World-